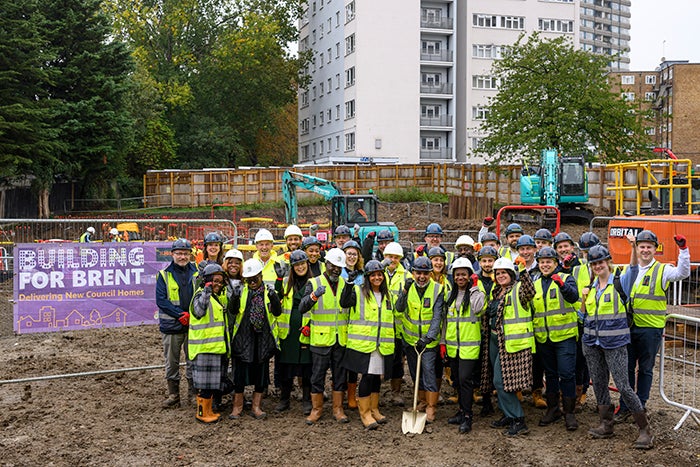 SNG and Brent Council break ground with partnership to deliver 125 homes
SNG is supporting Brent Council in delivering 125 new homes at Watling Gardens in Kilburn, London. A crowd gathered last week (12 October) at the site in Shoot Up Hill to celebrate the new development with a ground-breaking ceremony.
The homes are being built on the existing Watling Gardens estate and will include 80 one, two, and three-bedroom homes, of which 56 will be for rent and 24 will be shared ownership. There will also be 45 one-bedroom self-contained flats to help people live independently as part of Brent Council's New Accommodation for Independent Living (NAIL) project.
SNG is acting as the project manager for the scheme using our expertise to supply lists of consultants and contractors and we worked with the council to appoint housebuilder, The Hill Group. The homes will be owned and managed by Brent Council.
Paul Haines, SNG's Construction and Regeneration Director in London and Hertfordshire, commented: "We're pleased to be working in collaboration with Brent on the Watling Gardens development in delivering this exemplar project of much-needed housing.
"On behalf of SNG I would like to thank all the project team in involved in getting to this ground-breaking event milestone: Brent Council's regeneration and development team; the contractor, Hill Group; the employer's agent, John Rowan and Partners, and, of course, the SNG team."
Councillor Promise Knight, Cabinet Member for Housing, Homelessness and Renters' Security, said: "Today is a crucial step forward for the residents of Watling Gardens and we are delighted to be celebrating it with our partners at SNG and Hill. The independent living homes will help meet the needs of some of the most vulnerable people in our borough by offering communal facilities, including a lounge, activity rooms, outdoor gym, play area and a landscaped front and back garden. Residents who move to the new scheme will also benefit from care staff assistance.
"A safe and secure home is the foundation for people to build their lives upon and we are committed to tackling the housing crisis in every way we can."
Simon Trice, Managing Director at The Hill Group, said: "We are pleased to be celebrating this key point in the construction of Watling Gardens and turn the plans for this innovative new development into a reality. We are delighted to be working with Brent Council and SNG to provide these much-needed homes that are both sustainable and low energy, suiting the needs not only of today's residents but those long into the future."
The development is planned for completion in winter 2025.